General Plumbing
From tap repairs and replacement to cold water storage tanks in the loft, we can cover all plumbing works. No matter how big or small.
A lot of our customers are worried that we wouldn't visit them just because their bathroom tap as a small drip but no small job is a bother and we are always happy to help. Have a look below at all the general plumbing services we have to offer.
Tanks & Cylinders
Every home is different in the way they are set up for the heating and hot water. Majority of households have a boiler but not all have tanks and cylinders.

We can install cold water storage tanks, hot water storage tanks/cylinders both vented & unvented and also immersion heaters. We can also carry out any repairs required to ensure your system is running how it should. This includes, replacement immersion elements and replacement or the adjusting of ball valves. So we have your covered no matter what your home set-up is.
Taps
With taps, we can replace and repair a variety of kitchen taps, bathroom sink taps, bath taps, outside garden taps and drink water taps. This could be to repair them with a new tap cartridge or tap washer or to fully replace them with something new. There are a wide range of taps out there to suit each need or budget.

Do you have an outside tap that no longer works or would like one installed? We can help you with both. Even if you don't have the pipework set up for an outside tap, we can install the necessary pipework to get your new outside tap up and running.

Did you know we can also install drinking water taps and filters? These are taps with a filter on the pipework to filter out the impurities leaving your water tasting delicious and therefore better for cooking with.

Stop cocks within your property can often become stiff or fail, leaving you unable to turn them off in the case of an emergency or if you are going away and don't want to leave the water on. This is something we can of course help you with. Sometimes we find that the main stop cock outside of the property is an issue whilst carrying out water works. If this is the case, we will call the water board out, for free, on your behalf to get this sorted for you so it is one less thing for you to worry about.
Toilets
Whether you have one, two or three toilets in your property, being a toilet down for whatever reason is a real inconvenience. This is why we are happy to come out and investigate what the issue is and get it resolved for you.

Sometimes the toilet has a flushing problem where it doesn't flush or doesn't stop running when you have flushed it. We will get that cistern sorted and your toilet back to normal.

We can also install new bottom or side entry ball valves, flush mechanisms, pan connectors and even toilet seats. Of course, we can also offer toilet replacements if you think it is time for a new toilet.
Sinks
There Is nothing worse when you are doing the washing up in the kitchen sink or simply brushing your teeth in the bathroom sink and then you see a puddle on the floor because the pipework has decided to give up. We can help you with this. Whether it's a waste pipe, isolation valve or even a washer issue, we have fully qualified plumbers to get that leak stopped and you using the sink without wondering if its leaking.

Is the water just not draining in your sink? You most likely have a blocked sink. We are able to come to you with some chemical to help unblock it or we can rod it to help shift the blockage. If all else fails, we will advise you on the best way forward after some investigation.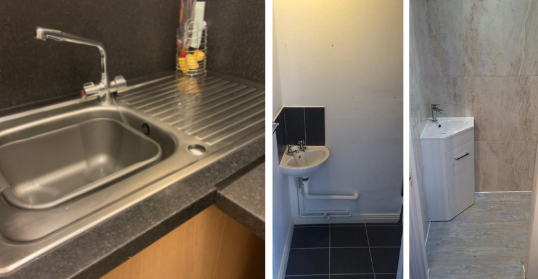 Appliances
Recently bought an appliance that needs plumbing in? Having trouble with your appliance not draining properly or not doing what it should? We would be more than happy to help.

We are happy to plumb in your new washing machine or dishwasher and to check that it's ready for you to use without any problems, ensuring that all fittings are intact and the pipework going into the appliance is adequate.

Did you know we can install waste disposal units and macerators? Waste disposal units are great for food waste that would normally sit in your bin and then smell after a while. They are also great for the environment as the waste would just go to landfill in your normal refuse collection which contributes to the collection of greenhouse gases. Instead, it goes along with your sink water waste as fine particles. Also helps eliminate food waste clogging up your drainage.

Macerators are perfect for toilet locations that don't have the gravity to pull the waste down into the waste drain line. Like a food waste disposal unit, it grinds up and liquefies the waste in the toilet which is then pumped out the macerating unit through a normal waste pipe that has been tied into the main drain line.

If you struggle with hard water and are fed up with the limescale build up and ruining your appliances, we can install a water softener for you. These are great for keeping your appliances shiny for longer as well as having great benefits for your skin and hair. You can find out more on our dedicated water softener page – click here.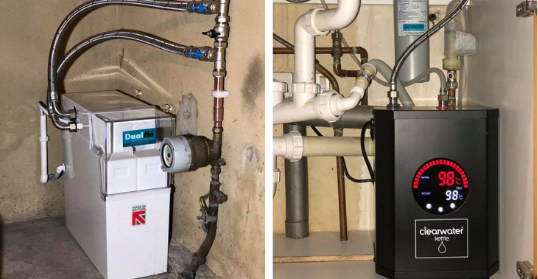 Need to book an Installer for advice?
Our experienced and helpful staff will always be happy to assist you.
Office Opening Hours
April to September
Mon - Fri 8:00am - 4:00pm
Sat By appointment only
Sun & Bank Holidays Closed
October to March
Mon - Fri 8:00am - 5:00pm
Sat By appointment only
Sun & Bank Holidays Closed